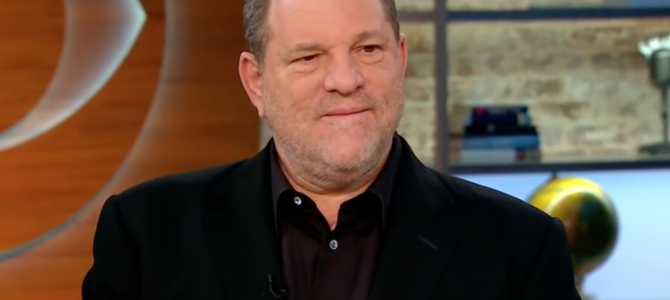 In the conviction of Harvey Weinstein, Me Too's highest-profile offender met the movement's highest-profile dilemma: Is the court of public opinion sufficiently capable of delivering just outcomes? More importantly, the conviction starkly underscores that Me Too is also a conviction of Hollywood, as the industry of incessant moralizing spent years whispering privately about the producer out of one side of its mouth while publicly offering praise from the other.
A New York jury found Weinstein, the first domino toppled by Me Too, guilty of sexual assault and rape in a decision rendered Monday. He was acquitted on more serious charges, two of predatory sexual assault and one of rape in the first degree. Weinstein will be sentenced on March 11, and faces up to 25 years in prison on the charge of sexual assault. He did not take the stand.
The jury determined Weinstein was guilty of raping aspiring actress Jessica Mann in 2013 and forcibly performing oral sex on former production assistant Miriam Haley in 2006. Weinstein's defense emphasized friendly contact the accusers maintained with him after the alleged incidents occurred in an effort to undercut their credibility. He faces charges of rape and sexual assault in Los Angeles as well.
Per Vox's count, more than 100 women have accused Weinstein of misconduct since the New York Times finally opened the floodgates in Oct. of 2017. Many of those accounts exceed the statute of limitations. Ronan Farrow followed that sweeping Times report days later with one of his own, which included audio from 2015 of Weinstein admitting in a secretly taped conversation to having groped a model's breasts one day prior.
Farrow has credibly accused NBC News of effectively killing his story amid pressure from Weinstein, whom he says threatened to leverage his knowledge of Matt Lauer's alleged misconduct to intimidate the network. Farrow even claims Hillary Clinton backed out of an unrelated interview while he investigated Weinstein, citing the story as a "concern."
At this year's Golden Globes, Ricky Gervais memorably torched Hollywood for its complicity in the Weinstein case. In the wake of the industry's self-correction campaign, its years of silence on Weinstein should not be forgotten: both because the silence enabled the mogul to harm more women, and because all that happened while Hollywood styled itself as America's moral compass.
Recall that a Hollywood producer told Jake Tapper in 2017: "Shocked it's taken so long for a Harvey Weinstein behavior expose. One of the most open secrets in Hollywood."
"I have been having conversations about Harvey Weinstein's history of sexual harassment for more than 17 years," Rebecca Traister wrote at the time. Lena Dunham described the "flimsy but firm veil of secrecy" protecting Weinstein in the industry.
While the press ultimately published exposes on Weinstein, reports like Farrow's on NBC implicated the media alongside the entertainment industry, showing how outlets were responsive to the producer's pressure campaign. It's telling that "one of the most open secrets in Hollywood" remained outside the media spotlight for so long.
To be clear, Weinstein and Weinstein alone is guilty for his disgusting behavior, and the justice brought to his accusers is Monday's primary victory. But everyone knows more could have been done, and much sooner.
Weinstein visited the White House nine times during the Obama administration, and was a major donor to Democratic causes. In addition to his influence in Hollywood, Weinstein's extensive political involvement continues to raise questions about years of complicity among self-interested elites, who arguably could have protected dozens of women from misconduct by taking action sooner.
In an initial statement, Weinstein sought to downplay the allegations as behavior from the culture of the 1960s and 1970s, scummily making a bizarre pledge to devote his "full attention" to the National Rifle Association. But momentum against him built quickly as accounts quickly streamed into the press from female accusers.
In the weeks and months after Weinstein's rapid downfall, a similar pattern befell other male powerbrokers, accused of misdeeds on varying scales of severity, with varying degrees of certitude. While Weinstein's immediate descent from power felt appropriate given the pattern of behavior that emerged through dozens of accusations, and men like Kevin Spacey clearly seemed guilty of heinous sexual predation, a dizzying flurry of allegations tested the court of public opinion's limits.
That test would ultimately hamper Me Too, which fell under the direction of far-left feminists with ideological agendas. The lack of "due process" afforded accused men, even including Weinstein, began to trouble observers. As Me Too marched into the winter of 2018, words like "excess" and "overreach" were increasingly attached to the nascent movement. Those concerns were supercharged by Babe.net's infamously shoddy allegation of "sexual assault" against comedian Aziz Ansari published in January. Momentum stalled.
In Weinstein's trial, the advantages of litigating difficult and serious allegations in the courtroom were apparent, including clarity and fairness. But so too were the limits, as statutes of limitations left the public with no choice but to try the accused outside formal proceedings. Navigating those waters was one of Me Too's defining challenges, and it's one the Weinstein verdict helps us understand.
Nevertheless, it would be unwise to forget all those complicit in Weinstein's reign of abuse, leaders in an industry helmed by elites who pride themselves on passing superior moral guidances down to the masses. Pundits and journalists have spent five years marveling at the rise of post-Obama populism, scratching their heads at Donald Trump (who faces Me Too allegations of his own) and Bernie Sanders.
The hollow morality of our purportedly moral elites is a reality Me Too, for all its faults, laid bare in months of disturbing news cycles. It is rightfully unsettling. It rightfully mingles with other concerns the public has about our ruling class, some of which drive them to the embrace of populists, waiting with open arms.
Let us not forget, it was Harvey Weinstein himself who said in 2009, "Hollywood has the best moral compass."
---