As the youngest in a family of six with three brothers, when I saw the story of a family twice the size of mine going through a dozen gallons of milk each week, it failed to register as extraordinary. Among blue check Twitter, I seemed to be in the minority.
A CNN report highlighting a family's struggle with price hikes at the grocery store became the topic of online mockery Thursday over their consumption of milk.
Featured on "New Day," network correspondent Evan McMorris-Santoro interviewed a Texas couple providing for nine children — two biological, six adopted and one foster — who opened up their home to share their experience squeezed by inflation.
"A gallon milk was $1.99. Now it's $2.79. When you buy 12 gallons a week times four weeks, that's a lot of money," said Krista Stotler, adding that if inflation rates remain the same, one of them may need to pick up another job to make ends meet. Rising groceries alone have already "squeezed" the couple another $100 a week. Her husband, Larry, said he often feels guilty for being unable to afford healthier options because "prices have gone way up."
"A gallon of milk was $1.99. Now it's $2.79. When you buy 12 gallons a week times four weeks, that's a lot of money."@EvanMcS goes grocery shopping with the Stotlers and shows us how badly inflation is hitting the middle class. pic.twitter.com/39hPPRHLja

— Brianna Keilar (@brikeilarcnn) November 4, 2021
Blue-check Twitter elites immediately jumped on the couple's financial anxieties under the Biden economy, mocking their weekly consumption of 12 gallons of milk.
"12 Gallons of milk a week may sound like a lot, but they've actually had to cut out their milk baths on alternate days," wrote New York Magazine's Jonathan Chait.
12 gallons of milk a week may sound like a lot, but they've actually had to cut out their milk baths on alternate days. https://t.co/3vwwMWjKfR

— Jonathan Chait (@jonathanchait) November 4, 2021
Others quickly joined the chorus to generate a trending topic on Twitter.
due to inflation i have been forced to alter my milk bath schedule from daily to to weekly https://t.co/wenuEQzZOT

— nic carter (@nic__carter) November 4, 2021
A gallon of milk hasn't cost $1.99 in three decades. And who buys 48 gallons a month? https://t.co/bV0T4hPVQK

— G O L D I E. (@goldietaylor) November 4, 2021
CORRECTED HEADLINE: Family with tons of children pay a fortune for groceries https://t.co/v2E08xSDFp

— Sarah Burris (@SarahBurris) November 4, 2021
very typical to buy 48 gallons of milk every month https://t.co/tGOVvISE7F

— David Sirota (@davidsirota) November 4, 2021
https://twitter.com/byKateSmith/status/1456257188897325071?s=20
Even the New York Times account for crossword puzzles wrote, "sorry, i can't do today's crossword. i'm too busy carrying my 12 gallons of milk home."
Why did @NYTimesWordplay delete this tweet? pic.twitter.com/oMktig3D0Y

— Mike Schietzelt (@mike_schietzelt) November 4, 2021
Those who mocked the family likely have at least one thing in common: they either didn't come from a big family, and/or don't have any children themselves.
According to data from the National Center for Health Statistics and graphed by the Congressional Joint Economic Committee below, marriage rates reached a record low in 2018 with 6.5 marriages per 1,000 people. In 2019, it fell even further to 6.1.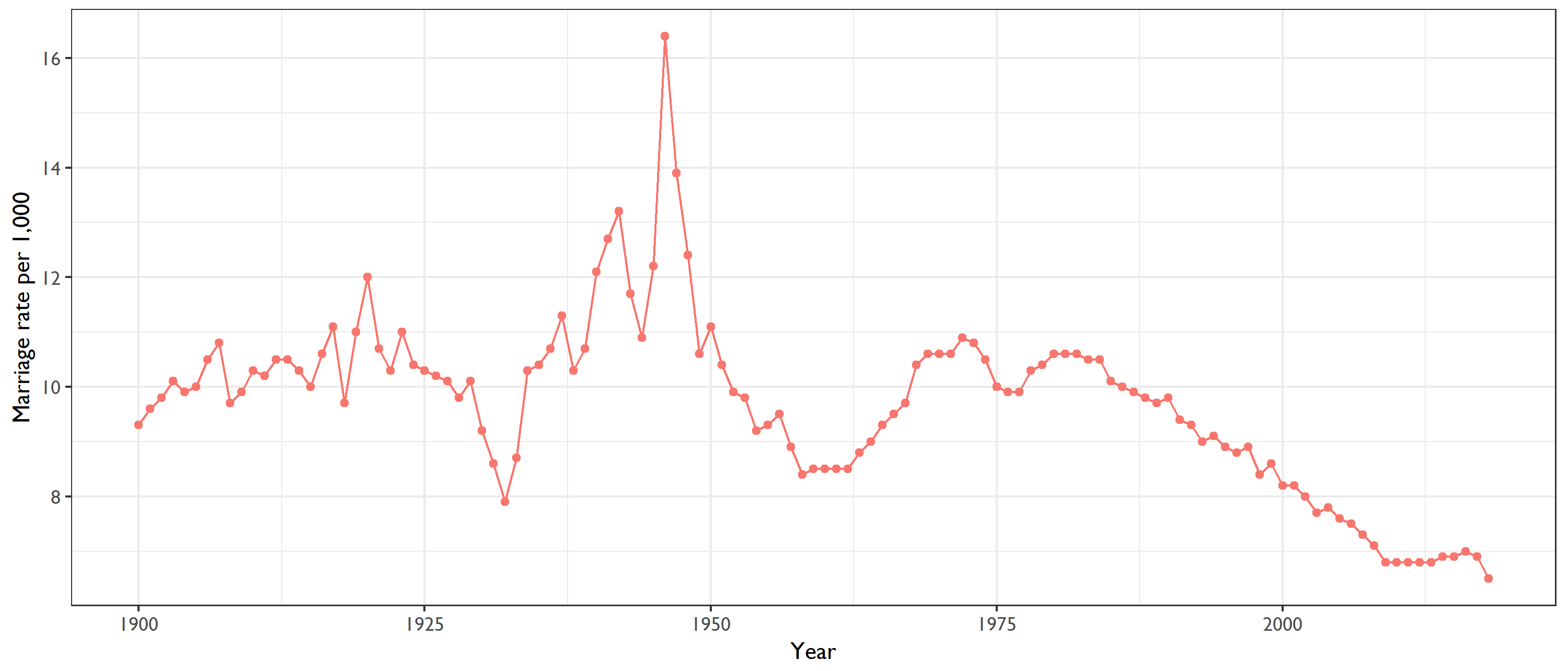 Married people will soon be in the minority with the Pew Research Center reporting 38 percent, or "roughly four-in-ten adults" aged 25 to 54 were "neither married nor living with a partner" in 2019. That's a sharp rise from 29 percent who said the same 30 years ago.
The proportion of married people aged 25-54 in the United States is on track to dip below 50 percent.
Meanwhile, those who are getting married are also having the fewest children in decades.
The American birth rate fell for the sixth consecutive year in 2020, dropping by 4 percent to only 56 births per 1,000 women aged 15 to 44, according to the CDC.
Considering the decline of the nuclear family, it's no wonder then why elites who likely don't have many children, if any children at all, are mocking a middle-class Texan family for their high grocery bill and consumption of milk as a primary staple. It's easy for childless adults to mock the struggles of people they don't understand.
In fact, as a staple in their diet, it's easy to see how 12 gallons of milk may not be enough for the family featured picking up stacks of discounted cereal boxes off the shelves. Nearly anyone who grew up in a big family understands that during the teenage years, cereal not only becomes a breakfast but also becomes a mid-morning snack, afternoon snack, evening snack, or midnight snack. Sometimes a combination of the above. And considering the family's tight budget requiring them to cook, many recipes even call for… milk!
The discourse Thursday further underscores the routine insensitivity blue checkmarks display when they expose how out of touch they are.
"Glad you're weathering the economy so well!" wrote McMorris-Santoro, the reporter who covered the story, after he called the apparently-irresistible dunking "truly remarkable."
Truly remarkable number of assholes on here attempting to dunk on a charming family who lays out how it feels to shop with price rises. Very wise and cool tweets. Glad you're all weathering the economy so well! https://t.co/AqA26YbwIA

— Evan McMorris-Santoro (@EvanMcS) November 4, 2021
It was just last month when the Washington Post published an op-ed blaming consumers as the problem for supply chain issues.
"Don't rant about short-staffed stores and supply chain woes," headlined the piece. In other words, Americans should just learn to expect less.
---