This December marks a big milestone for Star Wars. For the first time in its nearly 40-year history, Disney will release a movie that is not part of the series chronicling the story of the Skywalker family. "Rogue One: A Star Wars Story" is the first in a slate of planned movies where Disney hopes to mine the vast Star Wars universe for stories outside of Anakin and Luke.
"Rogue One" tells the story of the Rebels who stole the plans for the original Death Star. The film aims to show how the ragtag group led by Felicity Jones' character Jyn Erso infiltrated the Empire's most deadly and secret of weapons. Last month at Star Wars Celebration Europe, "Rogue One" director Gareth Edwards showed nearly three minutes of behind-the-scenes footage of the movie as part of a panel about the film featuring the cast, producers, and himself.
All seven of the previous Star Wars films revolve around the Skywalker family, and all share a similar structure and tone. We've been promised that "Rogue One" will break out and tell a tale in a different way. During the "Rogue One" panel at Celebration, you got the sense Edwards may be able to pull that off.
An Immersive Directing Style
Kathleen Kennedy, the executive producer and queen of all things Star Wars for Disney, talked about how Edwards' directing style provides an immersive experience for viewers. The director is fond of putting the camera on his shoulder to get alternate views for scenes, shots from within a crowd, or from a viewpoint a moviegoer might not expect. For some scenes he had the crew dress in full costume so if they were caught in one of the shots they would be indistinguishable from the extras populating the background.
He told one news outlet, "We went to Jordan to film and we built this set in Pinewood that was 360 degrees so you could kind of look wherever you wanted." He treated the backgrounds of his scenes differently too, saying, "Normally on a set the extras are told, "Okay, on action you walk over there and on cut you stop.' We said, 'Okay, for the next hour you're cooking food, or you're doing this car thing.'" That's the immersiveness Kennedy was talking about.
Edwards brings an interesting background to "Rogue One." With only one big, successful outing as a director under his belt, 2014's "Godzilla," his youth and perspective as a life-long Star Wars fan could provide us a perspective not yet seen in the seven other Star Wars films.
In the so-called "sizzle reel" shown at Celebration, Edwards admitted "The pressure is so high. We're making a film that is right touching my favorite movie of all time, but then if you're too respectful then you didn't do anything new or different," and that if you don't take a risk, "then what are you bringing to the table?"

Different, But Not Too Different
That fine line he has to walk is going to be tricky. He has to play in the sandbox George Lucas created, including with some of the locations and characters we see in the original films, but put a spin on it that makes "Rogue One" different, and new.
From the early peeks we've seen, it appears "Rogue One" is really close to making that break. It seems to be more of a war film, a heist movie, not of the traditional Star Wars formula. Sure, it has Tie Fighters, X-wings, Stormtroopers, and even Darth Vader, but it also has a gritty, worn look that you may see in documentaries about the wars in Afghanistan or Iraq, and settings more life-like than places we have seen in the past.
As with every Star Wars film, it has a droid. This time, though, it seems like it's not of the cute variety. From the footage we've seen of the Rebel-reprogrammed Imperial droid, played via motion capture by "Firefly" alum Alan Tudyk, "Rogue One's" K-2SO just doesn't give a damn what his human counterparts want. You get the sense he's more Wookiee and less BB-8.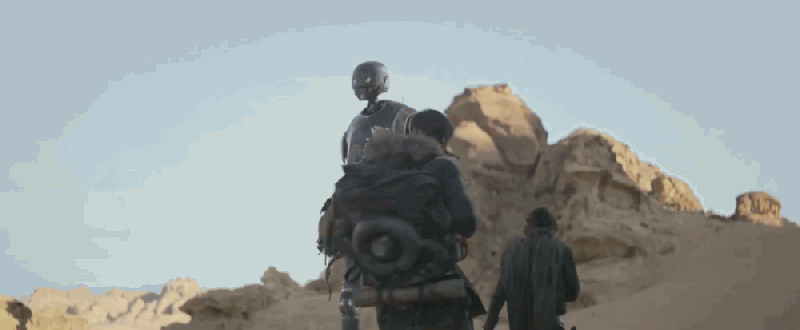 All this adds up to the chance for Edwards to make a Star Wars movie that isn't a Star Wars movie. That could be a great new step for the franchise, but it could also be something that worries the bigwigs at Disney. "Rogue One" just finished a series of extensive reshoots, something that could mean the Mouse House was unsatisfied with the tone of the film as it was originally produced.
Here's hoping Edwards is given the reins to make a unique Star Wars film that successfully kicks off the new series of movies that tell the many tales in that galaxy far, far away, outside the Skywalker family.
---