When I moved to Austin, Texas in 1998 I knew there was something magic about this town. It's the Live Music Capital of the World, the birthplace of the breakfast taco (you're welcome), and a city full of creative people.
In the nearly 20 years since I first moved here, Austin has evolved from a big college town to a full-blown metropolis. A lot of Californians have moved here, which has spoiled the vibe a little bit, but several times of year you're reminded just how special this place is. One of those times is upon us. It's South by Southwest.
As I wrote yesterday, SXSW is a marketer's dream. The coveted "influencers" of movies, music, and tech descend upon Austin for nine days in March. The keynote addresses and panel discussions here are always "yuge," featuring names like Barack Obama, Elon Musk, and one of my favorite people, Anthony Bourdain. Apps like Foursquare and Twitter made their name at SXSW. Award-winning films debut here each March. For me though, SXSW is about one thing: music.
But SXSW Is Really About the Music
When this festival was first founded in 1986, it was about music. Austin is a music town, the Live Music Capital of the world. Whether you're at a restaurant, bar, or park, you're likely to see live music in this city any night of the week. For SXSW that's amped up "to 11." Tens of thousands of people descend on this city for the music portion of the festival. More than 2,000 acts will perform here at venues across the city, making this the largest music festival in the world.
Big names like Bruce Springsteen, Kanye West, and even the legendary Johnny Cash have all participated in SXSW. This year country music hall of famer Garth Brooks is giving a free surprise concert. That's just the tip of the iceberg. World renowned musicians get discovered here, little bands you've never heard of wait their whole career for a shot at playing a small club off Sixth Street in Austin, it's the center of the live music world every spring, and it's incredible.
As a music town, we have good radio here, none better than our local public station housed out of The University of Texas at Austin, KUTX. Each year the fine folks at KUTX put on a series of morning shows featuring bands big and small playing the festival. They take over the Four Seasons hotel, and for ten bucks you get a breakfast taco, coffee, and the chance to see some great bands in a one of a kind, intimate setting.
This year their slate has been fantastic, and it's all capped off Saturday with a performance from a local band made big, Spoon. I beg, borrow, and steal time each year so I can make it to these shows. As SXSW has grown, getting into some of the festival events has gotten harder, but these shows are a great way to see some of music's best, including performers you may not know before you go, but you love after seeing them.
At Least Bud Light Makes Pretty Cans
After my younger brother graduated from college, he spent a year living with me in Austin. We ate, drank, and listened our way through SXSW that year like never before. We spent one night at a bar that was billing itself the British Music Embassy for the festival. It featured performers from the English Isles each night, only one of which I had heard of before stumbling into the venue.
While standing in that bar for most of the night, my brother and I drank beer and listened to music I still remember years later. I bought a CD out of someone's suitcase after the show. This wasn't someone on Capitol Records with a million-dollar tour bus, an army of roadies, and an agent working the media for attention. These were people looking to make their big break, and they were fantastic.
There is of course an "official beer" of SXSW. This year, it's Bud Light, and to their credit, they've created some amazing art for their cans and bottles specific to the festival. Now, it's still Bud Light, but they do know how to make pretty cans.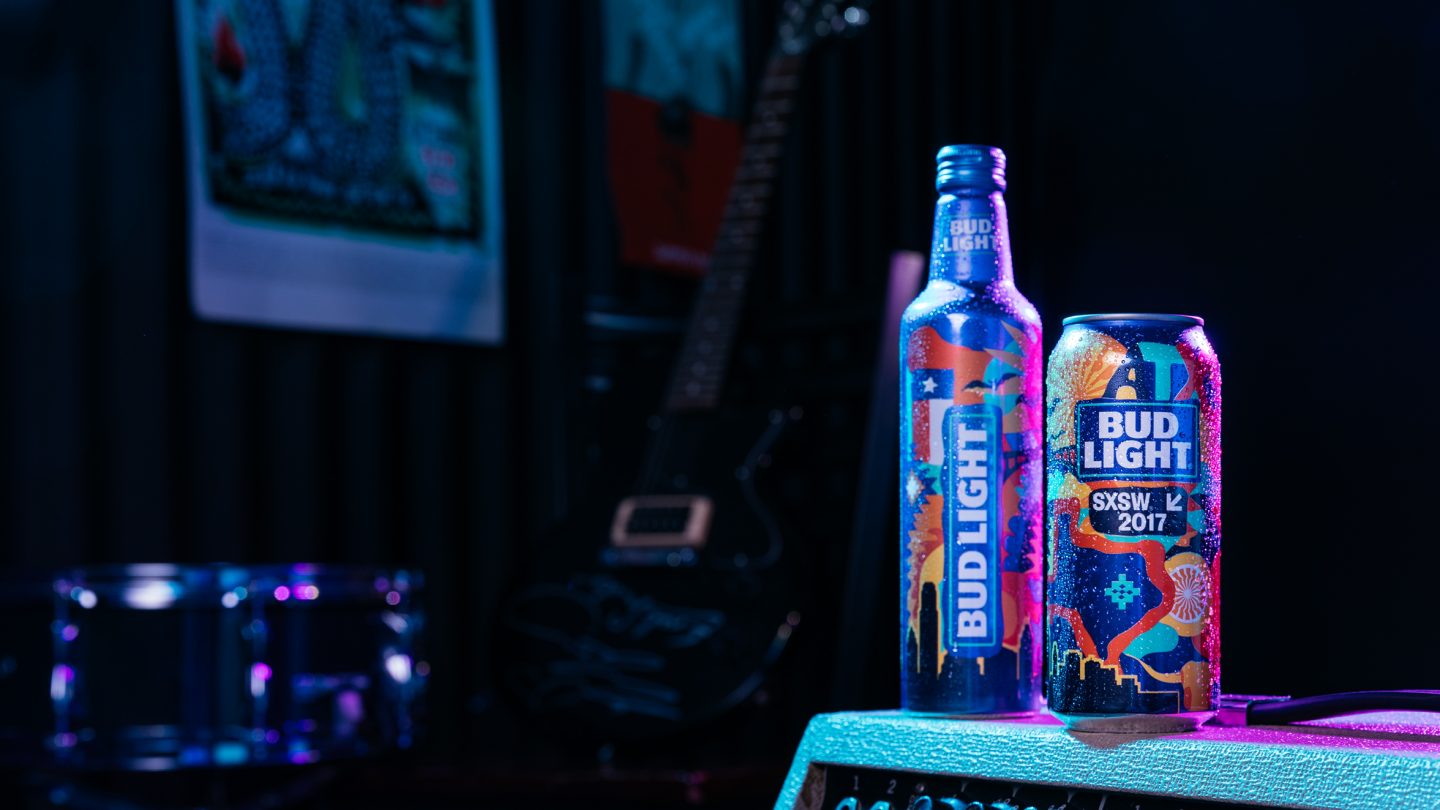 The good news is that when you're listening to music in Austin you have no shortage of beers to drink. Since this is Texas, Shiner Bock is available at any door you darken. It's one of those beers that every drinking-age Texan has running through his blood stream. A solid amber beer with only a 4.4 percent ABV, it's the perfect beer to drink out of a bottle while rocking back and forth to music. Very sessionable, this is a beer you can enjoy all night long as you discover new artists, and catch some of your favorites.
Of course many of the bars will also have beer tailored to their artists. The British-focused bars will likely have Boddington's or Guinness (which serves double duty today as a St. Patty's Day drink) on tap. Latino music joints are likely to have Tecate, Dos Equis (get the Amber), or Corona available. No matter what poison you pick, be sure to have a beer in your hand. Live music is always better with two things: friends and beer.
You'll normally see some of these acts in stadiums, on big stages at outdoor music festivals, or on "Conan." At SXSW, though, you get to see them in a small venue, up close and personal. It's a unique experience. Yes, SXSW has become incredibly commercial, with sponsored parties and more people than the city can handle, but those magic moments where you're drinking a beer with friends, bobbing up and down while listening to a band you just realized is the music you've been waiting for all these years, still makes it all worthwhile.
Now get out there, see some live music with your friends, and have a good beer or two while you're at it. Oh, and if you're looking for something to do next March, come on down to Austin and enjoy some SXSW magic. If you're lucky, I might even show you around town.
Cheers!
---