Updated March 1, 2021.
As President Joe Biden assumes the Oval Office, The Federalist will continue its rigorous coverage of the new White House, keeping the administration accountable with substantive fact-checking throughout Biden's tenure.
Biden Falsely Claims Administration Not Opening New Migrant Centers
Biden falsely claimed during a February interview with Univision the new administration is merely re-opening migrant camps operational during the Trump administration even as the Biden White House creates new ones.
"They opened up one, one that was a former one used in the administration in the last administration," Biden said. "Our hope and expectation is that won't stay open very long and that we'll be able to provide for every kid who comes across the border safely."
lots to unpack in this 1-minute clip from @UniNoticias:
1. Biden suggests he's merely reopening Trump's detention center
2. Co-president Jill Biden's cut-in 👀👀👀👀 pic.twitter.com/7SWgYu0THq

— Jorge Bonilla (@BonillaJL) February 26, 2021
Border agents however, opened up a new facility in Donna, Texas three weeks ago, according to the Washington Post, while creating new camps in Del Rio, Texas, and Arizona.
Biden Repeats False Claim Trump Instructed Public To Inject Bleach
Biden repeated the debunked story rated false even by left-leaning PolitiFact that President Donald Trump recommended during a White House coronavirus press briefing to inject bleach.
"I think there's a growing awareness that injecting bleach into your system doesn't do it for you," Biden said in remarks to black essential workers.
Trump however, said no such thing as Biden also asserted last summer. Instead, Trump was speaking on the role of disinfectants help in preventing serious infection with viruses such as the novel Wuhan coronavirus.
Speaking w/ Black essential workers, Biden says, "I can't tell you how much a difference you're making. We have met with people all over the country…I think there's a growing awareness that injecting bleach into your system doesn't do it for you." References online misinfo.

— Kaitlan Collins (@kaitlancollins) February 23, 2021
Biden Lies Again About Not Inheriting A Vaccine Plan
During his visit to the Pfizer COVID-19 vaccine manufacturing plant in mid-February, Biden once again falsely claimed that his administration did not inherit a vaccine plan from former President Donald Trump.
"Just over four weeks ago, America had no real plan to vaccinate most of the country," Biden said. "My predecessors, as my mother would say, God love 'em, failed to order enough vaccines. Failed to mobilize the effort to administer the shots. Failed to set up vaccine centers. That changed the moment we took office."
BIDEN: "Just over four weeks ago, America had no real plan to vaccinate most of the country. My predecessor, as my mother would say, 'failed to order enough vaccines,' failed to mobilize the effort to administer the shots… That changed the moment we took office." pic.twitter.com/TVo4tBEKyb

— Daily Caller (@DailyCaller) February 19, 2021
Despite this repeated claim from Biden as well as Vice President Kamala Harris, and White House Press Secretary Jen Psaki, officials such as Dr. Anthony Fauci have reassured the public that the Trump administration and Operation Warp speed did not leave the Biden administration empty-handed.
"We're certainly not starting from scratch, because there is activity going on in the distribution," Fauci said, disputing the White House's claims.
Operation Warp Speed, the Trump administration's project to facilitate the creation and distribution of the vaccine, also passed along a plan to Biden and his team once they assumed office.
Biden Falsely Claims There Is 'Overwhelming Consensus' To Pass Excessive COVID Spending
During a February CNN town hall with Anderson Cooper, Biden claimed there was "overwhelming consensus" to pass a coronavirus spending bill with excessive funding.
I'm committed to pass — look, here's — some of you are probably economists or college professors or you're teachers in school. This is the first time in my career — and as you can tell, I'm over 30 — the first time in my career that there is a consensus among economists left, right, and center that is over — and including the IMF and in Europe, that overwhelming consensus is, in order to grow the economy a year, two, three, and four down the line, we can't spend too much.
A column in the Wall Street Journal published in January disproves Biden's erroneous assertion by highlighting remarks from several of Biden's own political allies on the left who refute the idea of passing a gargantuan package.
Another article in the New Yorker published days before Biden's CNN appearance cited warnings over Biden's $1.9 trillion relief package by prominent economists.
"The 1.9 trillion program could overheat the economy so badly as to be counterproductive," Oliver Blanchard, a former chief economist at the International Monetary Fund (IMF) tweeted.
Biden Denies Psaki Said Schools Should Open Just One Day a Week
The same night he claimed a COVID-19 vaccine was not created until after he joined the White House, Biden denied that White House press secretary Jen Psaki ever said schools should be open just one day a week, claiming it was simply "not true" and eventually clarifying his statement to say it was "mistaken in communication."
Asked about @PressSec saying that schools should be open one day a week, Biden says "that's not true" and it was a "mistaken in communication."

The quote from Psaki: pic.twitter.com/TVbeo80JnB

— Philip Melanchthon Wegmann (@PhilipWegmann) February 17, 2021
At the beginning of February, Psaki proudly declared that Biden's goal to have children back to classroom learning by his 100th day in office, in April, only applied to half the country's schools and only requires one day of in-person learning — meaning just 50 percent of kids attending school for about five days total would accomplish the "goal." When a reporter asked her to clarify the Biden administration's position, Psaki doubled down on the plan to require just one day of in-person learning per week in "the majority of schools." Days later, the White House flip-flopped its position on school reopenings, and Psaki told reporters that Biden's plan was to ensure every school would be open "five days a week."
Biden Claims COVID Vaccine Wasn't Around When He Assumed Office
During a CNN town hall on Feb. 16, Biden falsely claimed the United States did not have a COVID-19 vaccine when he transitioned into the White House in late January.
President Biden said in reference to a vaccine — "Which we didn't have when I came into office." That's just blatantly false. @CnnTown

— Beverly Hallberg (@BeverlyHallberg) February 17, 2021
Against faulty predictions from journalists, so-called experts, and verified Twitter users who cast doubt on former-President Donald Trump's Operation Warp Speed, the first round of the Pfizer-BioNTech COVID-19 vaccine was administered in the United States to health care workers in mid-December following the Food and Drug Administration's emergency use and mass distribution approval. The FDA also applied emergency authorization to the Moderna vaccine in mid-December, approving it for widespread distribution and use long before Biden joined the White House.
Biden received both doses of the Pfizer COVID vaccine before he was inaugurated.
Biden Statement on Impeachment Falsely Attributes Officer's Death to Capitol Riot
Biden's statement on Trump's impeachment acquittal opened with the assertion that a Capitol police officer who died on the day of the January riots was killed by the mob of Trump supporters storming the congressional complex.
Is there any evidence at all that this statement from President Biden is true? Does it matter?https://t.co/jEBu5zKjhX pic.twitter.com/vGUCH0hWSk

— Glenn Greenwald (@ggreenwald) February 14, 2021
"It was nearly two weeks ago that Jill and I paid our respects to Capitol Police officer Brian Sicknick, who laid in honor in the Rotunda after losing his life protecting the Capitol from a riotous, violent mob on January 6, 2021," Biden said.
There is absolutely no evidence to prove, however, that Sicknick was brutally killed by the mob that day, a claim amplified by Democrats throughout the impeachment proceedings with the help of legacy outlets such as the New York Times, which quietly later issued a correction as the trial came to a close.
Amazing: the NYT just quietly appended this so-called "update" – which is really a correction if not a retraction – to its Jan 8 article about Officer Sicknick's death.

This is the article that caused the media to spend a full month spreading the false "fire extinguisher" tale: pic.twitter.com/lA2YZEdsUF

— Glenn Greenwald (@ggreenwald) February 14, 2021
Kamala Harris Repeats Bogus Claim New White House Starting 'From Scratch' on Vaccines
Vice President Kamala Harris repeated the bogus claim that the Biden White House has been forced to start "from scratch" to handle the coronavirus vaccine rollout.
"We're starting from scratch," Harris said, "on something that's been raging for almost an entire year."
Even National Institutes of Health Director Anthony Fauci rejected the assertion made by White House officials in January, as the Trump administration reached the 1 million shots-a-day threshold Biden has attempted to claim credit for.
.@VP Harris to @mikeallen: "There was no national strategy or plan for [COVID-19] vaccinations. … We're starting from scratch."

At a press conference last month, Fauci said "we certainly are not starting from scratch" on vaccine distribution. #AxiosonHBO pic.twitter.com/TdYnOHN1Bw

— Axios (@axios) February 14, 2021
Biden Said He Would Fire Staff 'On the Spot' for 'Disrepect.' Hasn't Fired Deputy Press Secretary
Biden issued a stark warning to about 1,000 presidential appointees upon taking the reins of the Oval Office.
"If you're ever working with me and I hear you treat another colleague with disrespect or talk down to someone, I promise you, I will fire you on the spot — on the spot. No ifs, ands, or buts," Biden said.
On Feb. 12, however, Vanity Fair reported White House deputy press secretary TJ Ducklo threatened a Politico reporter inquiring about a romantic relationship with an Axios political reporter tasked with covering the vice president after leaving the Biden beat.
"I will destroy you," Ducklo reportedly threatened Politico's Tara Palmeri, if the paper published the story.
Instead of unemployment, however, Ducklo was given a one-week suspension without pay.
How it started How it's going pic.twitter.com/ryRLkdPAqa

— Abigail Marone (@abigailmarone) February 12, 2021
Biden Said He 'Misspoke' When Claiming US Would Reach Only 100 Million Vaccines in 100 Days
Biden said during a Jan. 25 press conference he "misspoke" when claiming the United States would reach only 100 million coronavirus vaccine shots given out within the administration's first 100 days, a pace reached by the Trump administration. Biden then emphasized a hope of reaching 150 million instead.
The White House COVID-19 Response Team tweeted two days later, however, that the Biden administration's goal of 100 million doses in 100 days hasn't changed.
The President set an ambitious goal of administering 100 million shots in our first 100 days. To get there, we've got to average about a million shots per day. Just one week in, our trajectory is good and we are well on our way to hitting that goal. pic.twitter.com/wnifMdoU8e

— White House COVID-19 Response Team (@WHCOVIDResponse) January 27, 2021
Biden Trashed Trump's China Travel Ban as Xenophobic Before Signing His Own
When Trump implemented a travel ban on China in the early days of the coronavirus pandemic, then-candidate Biden railed against the executive action as "xenophobic," claiming such restrictions do not work.
Less than a year later, Biden has implemented his own travel bans on South Africa, Brazil, Great Britain, and 26 other European countries in the second week of his presidency.
Biden's tweet about Xenophobic & fear mongering was not about the Muslim country travel restrictions. It was about COVID, in March of last year. Biden also stated travel restrictions won't work. https://t.co/v6PNl5ILOb pic.twitter.com/SRj8Wtq2oR

— Stephen L. Miller (@redsteeze) January 25, 2021
Biden Team: Trump Vaccination Plan 'Worse Than We Could Have Imagined'
After Biden staffers lied, telling CNN there was "nothing for us to rework" in terms of a vaccination distribution plan, White House press secretary Jen Psaki admitted at the podium during a Jan. 25 briefing that there was a plan — they just won't give credit. Psaki told reporters the plan from the Trump White House was "much worse than we could have imagined."
.@PressSec says the coronavirus vaccine distribution plan inherited from the Trump White House is "much worse than we could have imagined."

— Anders Hagstrom (@Hagstrom_Anders) January 25, 2021
The plan inherited by the Biden White House, however, has already put the new administration on a trajectory to reach its goal of getting 100 million people vaccinated within its first 100 days.
Below is the chart outline for the distribution process under Operation Warp Speed, which produced not one, but two coronavirus vaccines in record time.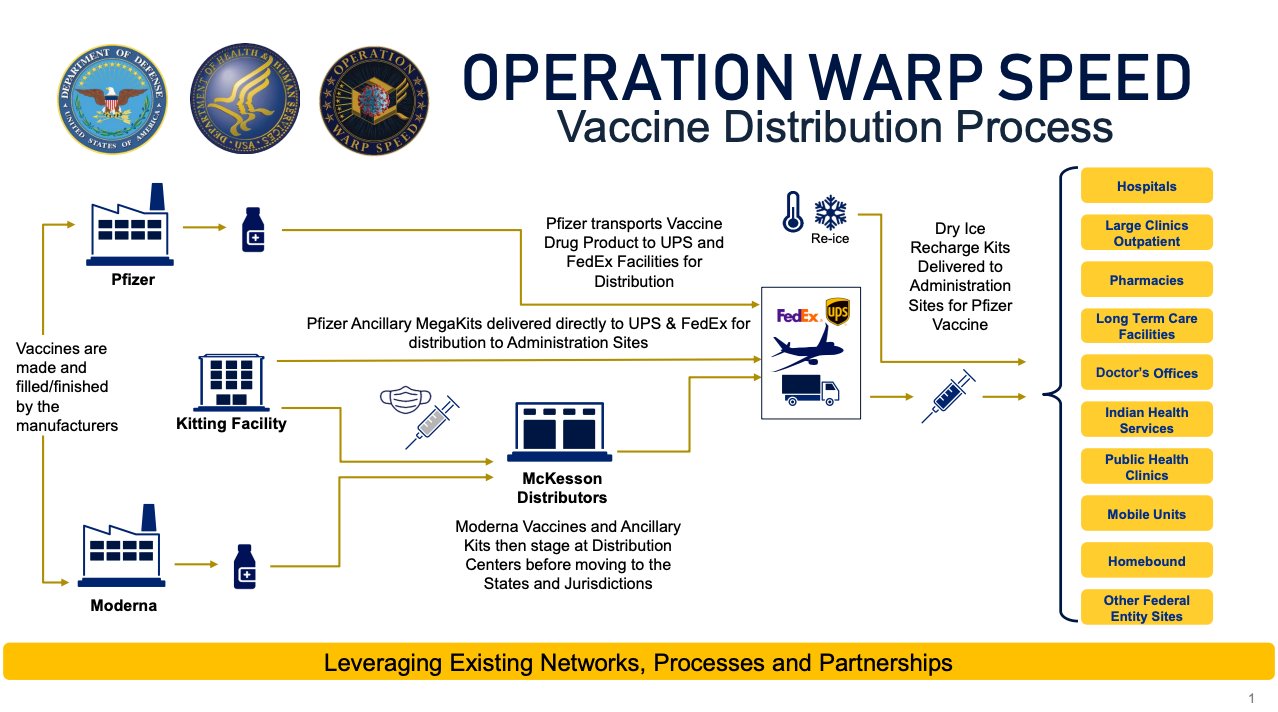 Biden Warns Pandemic Will Worsen After Pledging to Shut Down Virus
Biden spent the entire campaign last year running on a platform to shut down the novel coronavirus, only to back away from the signature pledge on day three of his White House tenure with a bold admission.
"There's nothing we can do to change the trajectory of the pandemic in the next several months," Biden said on Jan. 22.
On day 3, @JoeBiden gave up and admitted he was lying. https://t.co/e6583LHruH pic.twitter.com/1yh0DkG8wG

— Reverend Doctor Jill Biden Derek Hunter (@derekahunter) January 22, 2021
Not only did Biden's official campaign promise acknowledge that "the trajectory of COVID-19 in America is headed in the wrong direction" and that his administration would be the solution, but Biden also pledged numerous times to "immediately put in place a national strategy that will position our country to finally get ahead of this virus and get back our lives."
Biden Claims Federal Government Never Acted with Urgency to Combat Pandemic
Joe Biden claimed the federal government failed to "act with the urgency" that was necessary to combat the coronavirus pandemic, apparently neglecting to mention the Trump White House's Operation Warp Speed that produced two viable coronavirus vaccines by the year's end.
Texas Republican Sen. John Cornyn also pointed out that Congress passed trillions in stimulus, providing funds for pandemic efforts and economic recovery.
Fact: A series of bipartisan COVID-19 relief bills passed last year totaling more than $4 trillion, as recently as last month.

Fact: About 1 million Americans being vaccinated daily

— Senator John Cornyn (@JohnCornyn) January 22, 2021
Biden Team Tells CNN Trump Offered No Plan for Vaccine Distribution
Sources within the Biden administration told CNN they inherited no vaccine distribution plan from the previous White House.
"There is nothing for us to rework. We are going to have to build everything from scratch," one source reportedly told CNN's MJ Lee, except there was, as outlined in Trump's Operation Warp Speed, included below.
This just isn't true https://t.co/g6hPRECmAK pic.twitter.com/xXU5ojCGzQ

— Katie Pavlich (@KatiePavlich) January 21, 2021
The Biden team's statements were also contradicted by Dr. Fauci the same afternoon.
"We're certainly not starting from scratch, because there is activity going on in the distribution," Fauci told reporters.
Biden White House Claims Elites 'Celebrating' Is Exception to Mask Edict
White House spokeswoman Jen Psaki justified Biden's decision with his family to forgo face masks at the Lincoln Memorial after signing an executive order requiring them on all federal lands.
"He was celebrating a historic day in our country. … We have bigger things to worry about," said Psaki, whose dismissal of the face mask as an insignificant issue was contradicted by the White House edict passed hours earlier.
Jen Psaki is asked why Joe Biden and members of his family weren't wearing masks at the Lincoln Memorial last night after signing the mask mandate on federal lands:

"He was celebrating a historic day in our country… We have bigger things to worry about." pic.twitter.com/wLjD1V0k1f

— Daily Caller (@DailyCaller) January 21, 2021
Though Biden has received both shots of the Pfizer coronavirus vaccine, Centers for Disease Control and Prevention guidelines stipulate that vaccinated people are to continue wearing face masks, citing a lack of research showing whether those vaccinated can still spread the virus. While Biden likely did not need to wear a face mask, considering he was outside and adequately distanced from others, the absence of a mask flies in the face of Biden's executive order, in which "celebrating" is not listed as an exception.
Biden Falsely Claims 'All' Media Smeared Vaccine Plan as 'Impossible'
Joe Biden defended his administration's goal to vaccinate 100 million Americans within his first 100 days in office after a reporter questioned whether the target was too modest.
"When I announced it, you all said it wasn't possible. C'mon. Gimme a break, man," Biden snapped.
Biden, asked if 100 million vaccines within 100 days is too low of a goal, snaps: "When I announced it you all said it wasn't possible. Gimme a break. C'mon man." pic.twitter.com/O7n7jBOjvn

— Tom Elliott (@tomselliott) January 21, 2021
While few articles at major publications have voiced some skepticism, they remained rare, undermining Biden's claim that "all" media had been overwhelmingly pessimistic of the Biden administration reaching the 100 million mark by the end of April.
Biden Vows to Be Unity President After Smearing GOP Sens. as Nazis
Biden launched his first term as commander-in-chief by branding himself as the unifier-in-chief while aggressively pursuing a partisan progressive agenda promoting left-wing ideas of "social justice" after smearing two Republican senators as Nazi collaborators.
"To all those who did not support us, let me say this: Hear me out as we move forward. Take a measure of me and my heart," Biden pleaded with the American people.
Less than two weeks prior, however, the "unity" president smeared Republican Sens. Josh Hawley of Missouri and Ted Cruz of Texas as Nazis.