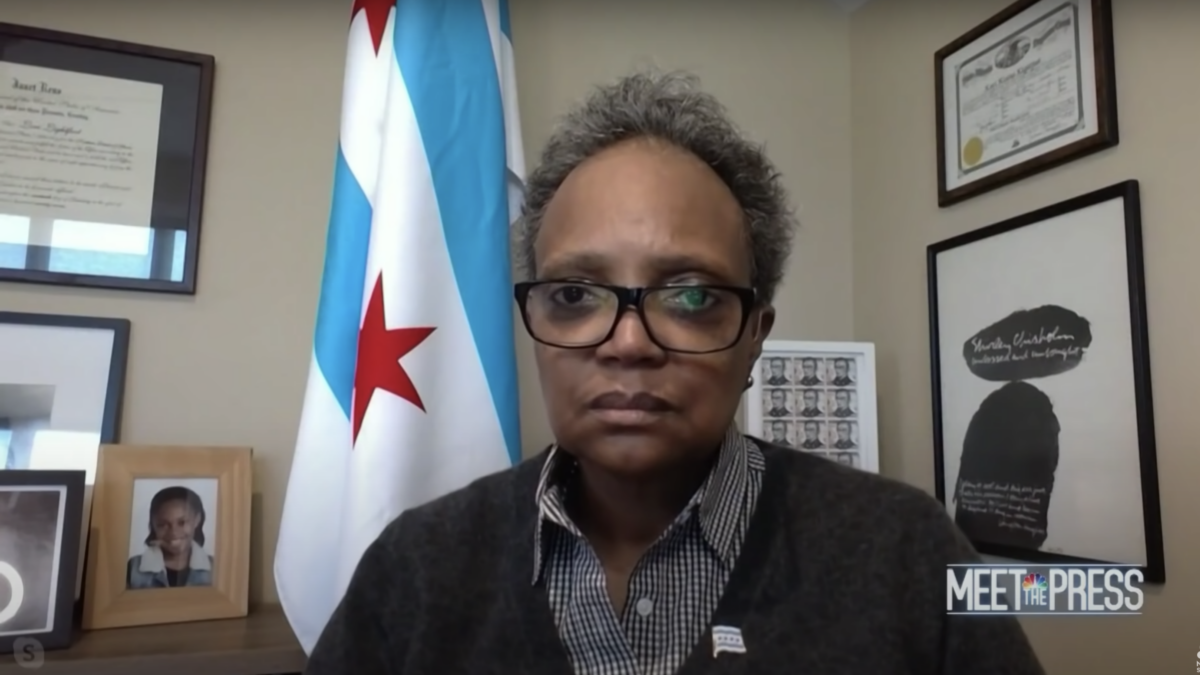 Chicago Mayor Lori Lightfoot encouraged violence on Monday in a tweet asserting the U.S. Supreme Court's leaked opinion draft signaling the downfall of Roe v. Wade means the justices will come for the"LGBTQ+ community" next.
"To my friends in the LGBTQ+ community—the Supreme Court is coming for us next. This moment has to be a call to arms," she wrote on Twitter. "We will not surrender our rights without a fight—a fight to victory!"
The tweets came after a weekend of attacks on churches and pro-life centers and in the midst of coordinated mobs of Democrat activists descending upon the homes of conservative justices and their families. Due to the increase in calls for violence, security — including high-grade and unscalable fencing — has been erected around the besieged Supreme Court. The Senate also voted Monday on a bill to increase protection for Supreme Court justices and their families who have been threatened.
Lightfoot is one of many Democrats to issue such threats. In 2020, Senate Majority Leader Chuck Schumer stood on the steps of the Supreme Court and personally threatened Justices Neil Gorsuch and Brett Kavanaugh if they didn't issue opinions aligning with his views on abortion.
The Supreme Court has not signaled any desire to overturn Obergefell v. Hodges — and the Dobbs v. Jackson draft opinion specifically noted it and other key cases deal with fundamentally different issues than abortion — yet Lightfoot is not alone in her fearmongering about it. Since the Dobbs draft opinion was leaked, Lightfoot's Democrat allies who feel threatened by the probable end of Roe, such as Rep. Alexandria Ocasio-Cortez, the ladies on "The View," and the corporate media, have not only lied about the court's intentions but have also called for action against the justices, the physical Supreme Court, and the American political system as a whole.
Even President Joe Biden hinted that the Supreme Court's Dobbs decision could threaten "a whole range of rights."
In addition to spreading blatant disinformation with the goal of undermining SCOTUS, Lightfoot also explicitly called for political violence against U.S. institutions, something she previously denounced.
Lightfoot was one of the many Democrats who blamed former President Donald Trump for the riot at the U.S. Capitol on Jan. 6, 202, and claimed he "incited this violence" with his words.
"I am in disbelief with what is unfolding in D.C. right now," Lightfoot tweeted at the time. "President Trump and his enablers incited this violence. Shame on every elected official in Congress and elsewhere who fomented this anti-democratic insurrection by extremists. This is not democracy. This is a disgrace."
Twitter banned Trump for language it claimed posed a "risk of further incitement of violence," but Lightfoot's Supreme Court tweet that explicitly demands a "call to arms" and a "fight" remains untouched by the Big Tech censors. Democrats in Congress also tried to impeach Trump for telling his supporters to "fight like hell," but so far, Lightfoot's incendiary tweet remains uncondemned by her own party.
---